News
SEPTEMBER OCTOBER NOVEMBER 2023
CONTIS and SAINT-GIRONS 2023

OFF-SEASON RATE

AUTUMN/WINTER: IT'S NOT SUMMER, DIFFERENT PRACTICE CONDITIONS. UNSUPERVISED BEACH

ATTENTION LOW SEASON: surveillance on the beaches ends soon. but you can practice safely with our support. Only Max Respect is left for you and it's a real godsend to enjoy and play in the waves in safety. MAX RESPECT is an officially authorized school to teach surfing on the beaches of Contis and Saint-Girons. The label recognition "French School of Surfing" and "French School of SUP is the certification.

You benefit from off-season rates, take advantage of it.

Before and after the season, come and enjoy places with a special atmosphere.

Tips: Take advantage of the experience of the instructors to practice safely and progress faster

Equipment rentals will be possible according to the conditions of practice and under conditions.

SALE: Equipment, Boards, accessories, Max Respect surfwear

Schedules will be posted daily.

Appointments and reservations are made by request, by TEXT message (sms; WhatsApp)

STAND UP PADDLE only on Contis only in small groups and by reservation. 1H outing session 25€ rental 1H 17€

+33 6 12 91 80 36 with Alain

CHOOSE YOUR SPOT and BOOK NOW



TO BE QUIET AND HAVE A GREAT VACATION, BE SURE TO BOOK YOUR INTERNSHIPS NOW
THE RIGHT CHOICE: A SCHOOL CERTIFIED by the French Surf Federation (F.F.S) "FRENCH SURF SCHOOL and S.U.P".
MAX RESPECT has the F.F.S label since 1998. IT IS THE CERTIFICATION THAT THE SCHOOL HAS MUNICIPAL AUTHORITY TO EXERCISE ON THE MAIN AND MONITORED BEACHES (Only the 2 certified schools have this authorization, easy access, security, insurance and official recognition)* and practice on the main beaches of Contis and Saint-Girons (various pedagogical choices of adpatés spots) First Aid and State Instructors
CONTIS: Max Respect Contis is the first official school of CONTIS (1996).
SAINT-GIRONS: Max Respect Saint-Girons is the first official school in Saint-Girons (1997)

Max Respect surf schools have national recognition by the national brand:QUALITE TOURISME TM
Look at the experience, the date of creation, the opening period. This shows the knowledge of the places of practice and its dangers.
APPROVED QUALITY OF TRAINING, SAFETY AND ENVIRONMENT, OVER 25 YEARS OF EXPERIENCE
KIDS the special group of children with suitable material, priority on the conditions and close to the place. (only with schools label FFS French surf school)
Homogeneous group according to age, level and, if possible, affinities according to level.
MAX RESPECT welcomes you with over 27 years of experience for 2023.
Enregistrer
SUMMER 2021 CONTIS / SAINT-GIRONS


MAX RESPECT welcomes you .
2 schools of Surfing, label F.F.S, in quality approach SURFING IN LANDES, for your holidays "glide". 2 premises Rent, Materials.

Atmosphere, Surfing, Passion, Safety.


Suefing, Stand Up Paddle, rent a materiel and specially good advice.
Ask for information (surf or others), formulate your wjshes, we'll give a indidual solution to you. We shall send you an estim and an enrolment to book your training course.

Welcome-Willkommen-Bienvenido
Laurent, Alain and the Max Respect crew
Holidays in april, may or september, october, november, the off season is for you.



After and before the season, come take advantage of places with a particular atmosphere, of pack surfing (accommodation / activity) and price lists(rates) of low season.
.Book your place now.
Happy holidays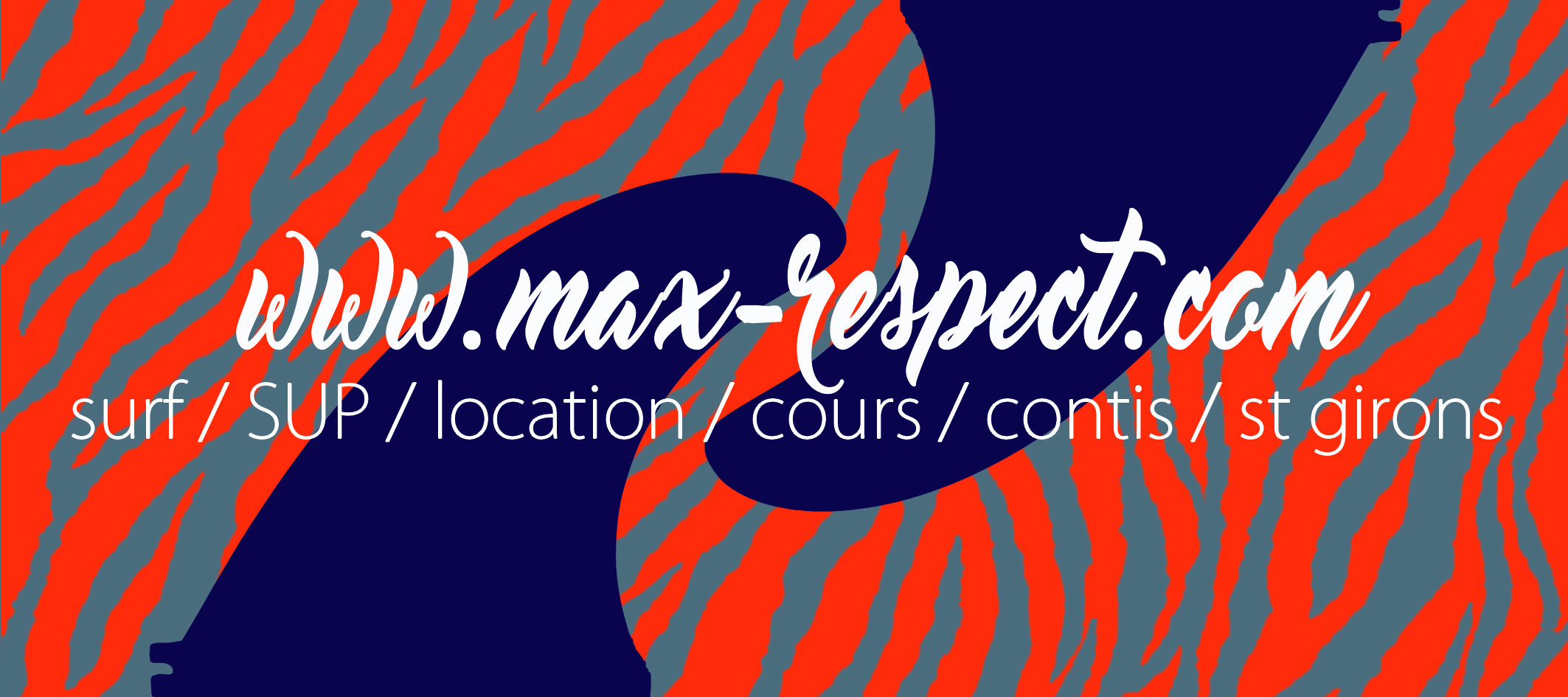 MOVIE JULY 2016 SURF SESSION MAX RESPECT TEENAGERS AND KIDS